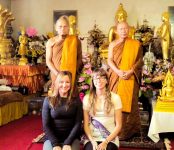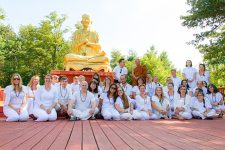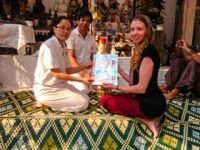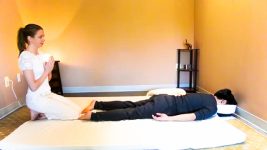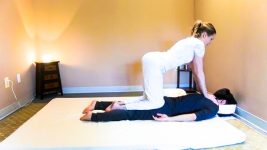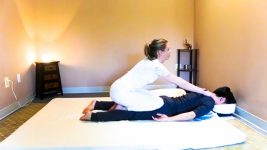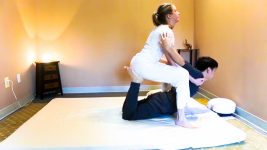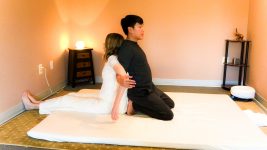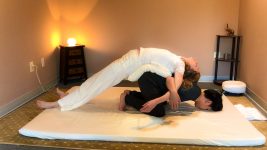 About Thai Massage

Traditional Thai Massage (นวดแผนโบราณ, Nuat Pæn Bōrān) is the massage aspect of the accumulation of ancient medical practices that have developed in the area now called Thailand.

The difference that most people notice right away is that clothing is usually kept on for Thai Massage. This can make it more approachable for people who are uncomfortable with Swedish Massage and allows for certain techniques that use friction, wide range of motion, or lifts.

A Thai Massage therapist uses their full body as the massage toolkit, not just the hands. This gives the therapist a very wide variety of techniques to approach any issue that may be ailing a client.
You may have seen pop references that show backwalking, pretzel shapes, and chiropractics. Keep in mind these images and videos are usually posed, and Thai Massage can range from relaxing to vigorous depending on the needs and preferences of the client.
Common complaints such as muscle stiffness, knots, and sports injury can be effectively treated. Range of motion and flexibility is improved, as well as overall daily living.

Even one Thai Massage can bring a new understanding of your body that leads to lasting benefits.

Regular sessions are a way to rejuvenate and maximize your body's natural cycle, like a tune-up.

When the client takes a holistic approach, Thai Massage can relieve chronic and systemic issues such as overuse injury, fatigue, stress, and autoimmune symptoms.
About Leslie Ann

Leslie Ann is a Licensed Massage Therapist and Registered Yoga Teacher. She began studying Thai Massage unofficially in the context of traditional Thai way of life in 2005 while living in Thailand, and has actively been a practitioner since 2011. She continues to return to Thailand for further study and research and to approach Thai Massage with the unique cultural theory and philosophical context from Thailand. She completed her Bachelor of Arts at Brigham Young University Hawai'i in 2003.
Appreciation for Thai Massage teachers:
Master Teacher Sararut Pilakun (Virginia and Thailand)
Bebe Khambay, Steve Brown, David Nix (Thai Massage Learning Center, Virginia and Washington DC)
Master Teachers Non Disaya and Song Kampon (SVG Thai Massage School, Thailand)
A single day (so far) with Master Teacher Pichest Boonthumme (Thailand)
Appreciation for teachers from other modalities:
Judy Herr (Northern Virginia School of Therapeutic Massage, Virginia)
Erin Sharp, Ashley Shrader, Andrew Howard (Yoga District, Washington DC)
Gwen Hull, Karen Lisondra (Maya Yoga, Missouri)
A weekend workshop with Ashtanga Yoga Master Teacher David Swenson