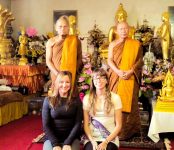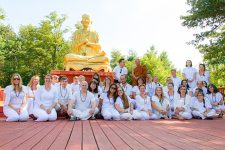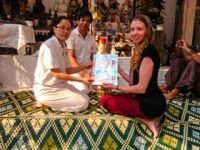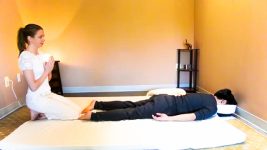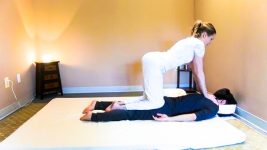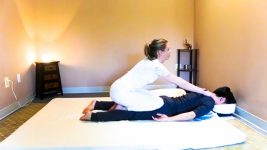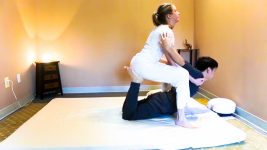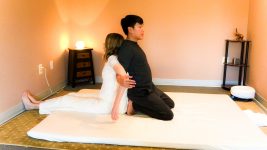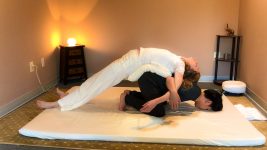 Thailand's healing knowledge

Thai massage is an integral part of the traditional/folk healing arts of Thailand. It has some of the same influences and sources as other southeast Asian sciences, such as Ayurveda and Traditional Chinese Medicine. In Thailand, the healing arts, like the martial arts, are handed down carefully in oral tradition through extensive training with an Ajahn (อาจารย์, Teacher).
For those who are most serious about their health

From the outside, Thai massage looks like a series of compressions, stretches and twists. This on its own is enticing, but it's even more exciting when you realize how deep the theories go. Even if you have had a basic Thai massage before, you probably were not exposed to the rich field of studies of the Thai healing arts, from energy lines to the 5-element theory. When you book a Thai massage or attend a class, you're getting all of my Thai healing arts experience and training in:
Energy lines and their characteristics that help map the body
Acupressure spectrum using hands, feet, forearms, knees, etc as massage "tools"
Five-element theory and relevance in massage, diet, lifestyle
Advanced joint mobilizations, with some similarities to physical therapy
Advanced full-body stretches, with some similarities to yoga poses and "partner yoga"
The 90-minute massage routine of the Shivagakomarpaj lineage, and variations
Advanced acupressure point therapy, with some similarities to trigger point therapy, including protocols for specific ailments (muscular-skeletal issues, body system complaints, etc)
The 90-minute Reusi Dat Tone routine sanctioned by the Thai Ministry of Public Health
Reflexology, focusing on the soles of the feet and palms of the hands to stimulate healing throughout the body
Herbal theory and application (compress, balms, etc)
Additional massage tools (wooden stick, cupping, scarves, etc)
Buddha studies (meditation, mindfulness, four noble truths, etc)
and more
 My Thai massage story
Hi, I'm Leslie. In 2005-6 I dedicated 18 months of volunteer service in Thailand, and was immersed in the language and culture.
Now, ultimately I have dedicated myself to Thai massage and yoga full-time.
I am a Licensed Massage Therapist and a yoga teacher, and I considered both of these achievements to be important steps as a serious practitioner of Thai massage in the context of the United States.
The Thai massage teacher who has influenced me the most is Sararut Pilakun, a traditionally trained Thai doctor based in Chiang Mai, Thailand.
Some of the lessons I have learned from her are about using your intuition and controlling your empathy; drawing strength from meditation; and putting faith into the healing arts.
I have witnessed her remarkable gift for healing many times. She has encouraged me to develop my therapeutic practice and to teach the knowledge that I have accumulated.
My formal training includes the Thai Institute of Healing Arts, which no longer exists; my teachers from that school can now be found in Chiang Mai at the Thai Massage and Folk Medicine Training Center in  as well as in Virginia at the Thai Massage Learning Center.
I have also studied with the dedicated family at the SVG Thai Massage Training Center in Chiang Mai, Thailand (part of the Old Medicine Hospital family).
I had the pleasure of meeting and learning from the famous Ajahn Pichest Boonthumme for a day.
Thank you to the many skilled teachers and therapists that have influenced the depth of my understanding of Thai massage! You are too many to name.
Try Thai massage, this could be the next big step toward living your ideal life!
Get in touch by sending a detailed email to Leslie (at) HealthyArts (dot) net
To watch a short demo video, click here