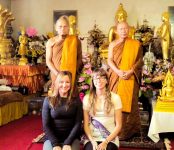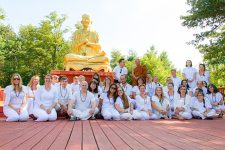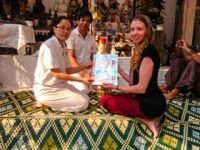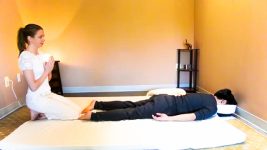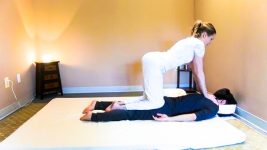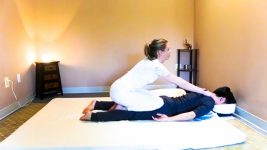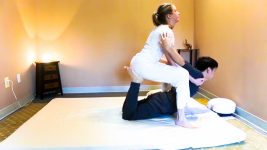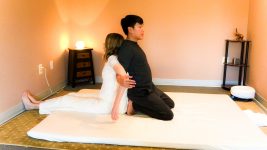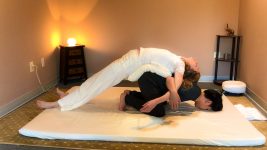 About Thai Massage

Traditional Thai Massage (นวดแผนโบราณ, Nuat Pæn Bōrān) evolved over thousands of years in Thailand, in Southeast Asia.

Thai Massage can be thought of as recharging the energy that flows through your body in a system of meridian lines. Unlike some other popular energy systems, this modality is quite physical, and techniques include acupressure, range of motion, and stretching.

Thai Massage can range from relaxing to vigorous depending on your needs and preferences. Uses include:
Relieve muscle stiffness and k

nots

Rehab sports injuries


Improve flexibility and d

aily living

De-stress and reset

Manage chronic issues
Even one Thai Massage can bring a new understanding of your body that leads to lasting benefits.

About Leslie Ann

Leslie Ann is a Licensed Massage Therapist and Registered Yoga Teacher. She lived in Thailand in 2005-06. Her bodywork practice is grounded in her studies from Thailand, and she continues to study the modalities that are available wherever she goes.
Thai Massage teachers:
Master Teacher Sararut Pilakun (Virginia and Thailand)
Bebe Khambay, Steve Brown, David Nix (Thai Massage Learning Center, Virginia and Washington DC)
Master Teachers Non Disaya and Song Kampon (SVG Thai Massage School, Thailand)
A single day (so far) with Master Teacher Pichest Boonthumme (Thailand)
Teachers from other modalities:
Judy Herr (Northern Virginia School of Therapeutic Massage, Virginia)
Erin Sharp, Ashley Shrader, Andrew Howard (Yoga District, Washington DC)
Gwen Hull, Karen Lisondra (Maya Yoga, Missouri)
Workshops with Ashtanga Yoga Master Teachers David Swenson, David Garrigues